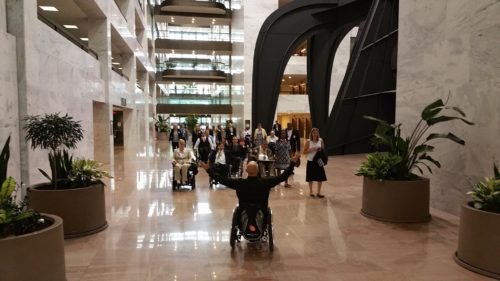 Spinal Network provides a number of opportunities for individuals living with paralysis to meet with others for socialization, to gain knowledge of their disability, and to expand their personal network. Here is a listing of Spinal Network peer support groups:
Individuals (Every Monday of the month 4 - 5:30) currently on Zoom
Families and Caregivers (to begin in the fourth quarter 2021)
Women (we link with the Greater Boston Chapter via zoom)
Spanish Speaking (once per month on zoom)
Interabled Couples (meets quarterly)
Intimacy and Sexuality (to begin in the fourth quarter 2021)
There are Peer Support groups that focus on specific disabilities such as spinal cord injury, muscular dystrophy, ALS, and spina bifida to name a few. We support these groups by sharing information on where and when they meet.
Sharp Men's SCI Group (1st and 3rd Monday of the month 4 – 5:30) on Zoom
Spinal Network SCI/D Group (2nd and 4th Monday of the month 4 - 5:30) on Zoom
ALS Association - Greater San Diego Chapter (3rd Saturday of the month 11 - 12:30)
Ballard Rehab Hospital (4th Wednesday of the month 3:30 - 5)
1760 West 16th St. San Bernardino, CA. 92411
Contact Terina Sprague for location details 909-855-9131
East San Diego County Support Group (1st Saturday of the month from 12 - 2) currently on Zoom